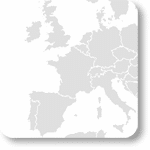 Here is an overview from our data offering for small-scale international market and geographic data of the European countries. We provide purchasing power data and ratios such as retail spending, retail turnover, retail centrality, purchasing power in product groups, income quintiles and construction data for your sales territory planning and location planning as well as numerous analyses.
On the country overviews, you will find further available data as well as the matching area boundaries. Please select your country of interest.
If desired, we can integrate the MBI socio-economic data directly into our digital boundaries. So, you can load them directly into your system without any additional steps and use them immediately.
TELL US WHERE YOU ARE HEADING.
WE WILL GLADLY ASSIST YOU IN SELECTING THE DATA NEEDED TO REACH YOUR GOAL.
Didn't find what you are looking for or have another question? Please do not hesitate to contact us!
Our experts will be happy to advise you individually and without obligation on which data you can use to create added value for your company and realize savings.
Would you like to evaluate and visualize the data?