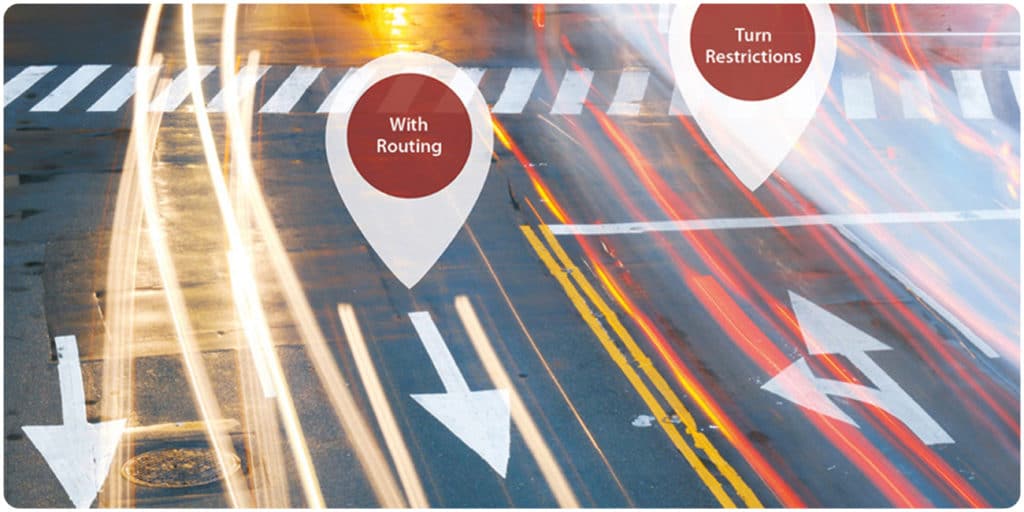 IS CLOSELY RELATED: TRAFFIC FLOW AND SITE SELECTION
What insights site planners can drag of real-time data
For all questions where the volume of traffic may affect the selection of a site Traffic Flow data provides an important decision-making aid. The comprehensive road maps from HERE are used in a wide range of applications. Up to now geomarketing analysis has been considered only the spatial component – now the temporal component Traffic Flow is added. In other words, the volume of traffic at any given time and point of a street segment can be fed into the analysis.
This is interesting for retailers in the planning process of the next retail site, for media companies choosing the optimal location for outdoor advertising (e.g. high frequency, visual links) or for all companies offering services. Especially of interest is how many mobile devices (mobile phones, smartphones, tablets etc.) pass a location or a street segment on average at any given time, at any timeframe or on a particular day.
That information is now available per street segment and helps in the planning of opening hours, number of open cash desks or provides valuable insights on the relationship between traffic volume and the revenue at a site. Also a retrospective view of the road traffic over several years can lead to interesting results for a site.
SELECTED LOCATION: POPULATION STRUCTURE AND PURCHASING POWER
If you want to know more about the population structure and their purchasing power in the immediate vicinity of the selected location the road maps can be enriched with a range of population data on administrative, postcode or even smaller scaled level and the matching area boundaries.
The combination of road maps, area boundaries, socio-demographic and –economic data and current traffic information provides a good basis for reliable decisions.
Where does the traffic flow data with real-time information come from?
WHERE DOES THE TRAFFIC FLOW DATA WITH REAL-TIME INFORMATION COME FROM?
The road maps from HERE contain huge amount of data with the aim of enabling a more reliable and precise navigation. The global traffic data technology covers historical traffic flow data and real-time traffic information.
The real-time traffic data are derived from various sources and are based on anonymized data. This includes commercial and user-generated GPS-measurements, a network of permanently installed measuring sensors, event-based data and historical records of traffic volume.
Real-time data allow a controlled and dynamic route guidance taking into account the constantly changing traffic conditions.