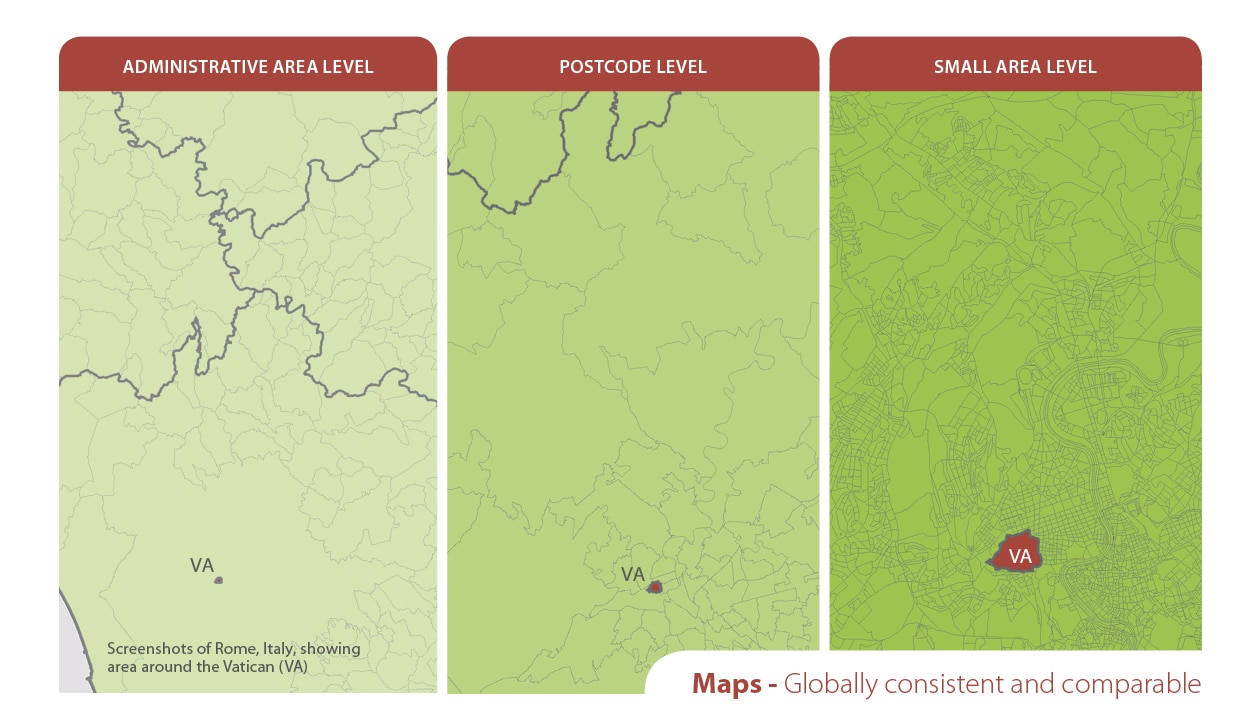 DIGITAL POSTCODE BOUNDARY MAPS AS THE BASIS FOR YOUR DATA
Worldwide postal areas are geographic boundaries that define the geographic area for each postcode. Digital Postcode boundaries help you to display and analyze spatial areas on a map. They can easily be matched and attributed with company internal data (e.g. sales figures, sales areas) or SOCIODEMOGRAPHIC DATA and PURCHASING POWER data from MB-International.
ADVANTAGES OF THE MB-INTERNATIONAL POSTCODE BOUNDARY MAPS
Globally consistent and comparable: Worldwide, seamless coverage of postal boundaries
The layers are topographically correct and "seamless", i.e. Postcode boundaries fit seamlessly together without overlaps and gaps
Data and territories can be easily combined in one layer thanks to a unique key, enabling cross-country analyzes
Simple update by uniform layout of the layer names
Digital boundaries are in a vector format to allow visualization in any zoom level
The vintage compatibility between the boundaries and the Sociodemographic and Purchasing Power data is guaranteed
Our Postcode Area Boundaries are subjected to a strict quality control and constantly updated by means of comprehensive research by our in-house geographical department.
VAST VARIETY OF USES IN MANY DIFFERENT ASPECTS OF BUSINESS APPLICATIONS
Sales planning
Sales controlling
Site planning
Expansion planning
Branch network planning
Customer visualization
Predictive analytics
Insurance risk management
Thematic mapping
Social Media Marketing
Postcode look-up tables
Internet applications
Geocoding and Reverse Geocoding
By using MBI area boundaries companies from across all branches of trade are able to:
Quantify regional sales opportunities / market potentials
Evaluate areas for strengths and weaknesses
Identify unused market potential
Set realistic local economic forecasts
Focus locally on Marketing activities
Formulate quantified and realistic objectives
Restructure and optimize market and sales areas
STANDARD GIS FORMATS FOR OUR VECTOR BOUNDARIES
Esri Shape file (.shp)
Esri Geodatabase (.gdb)
MapInfo (.tab)
MapInfo MIF/MID
Please contact our SALES TEAM to discuss your requirements or request an individual quotation.
---
In the following selection you will receive an overview of our worldwide boundary data offering for the countries in the individual continents.
We have free sample (test) data available for most European countries. Please feel free to CONTACT US should you have any questions or in the event that the data you are looking for is not listed here or if you need samples for any non-European country.