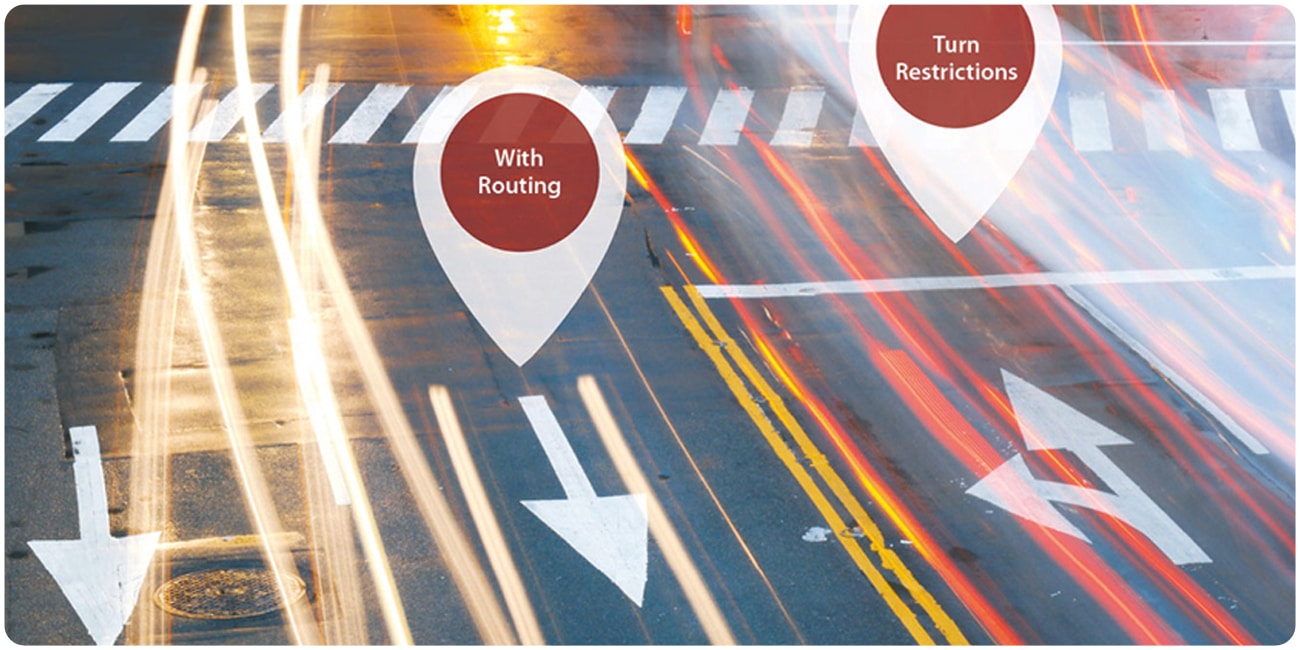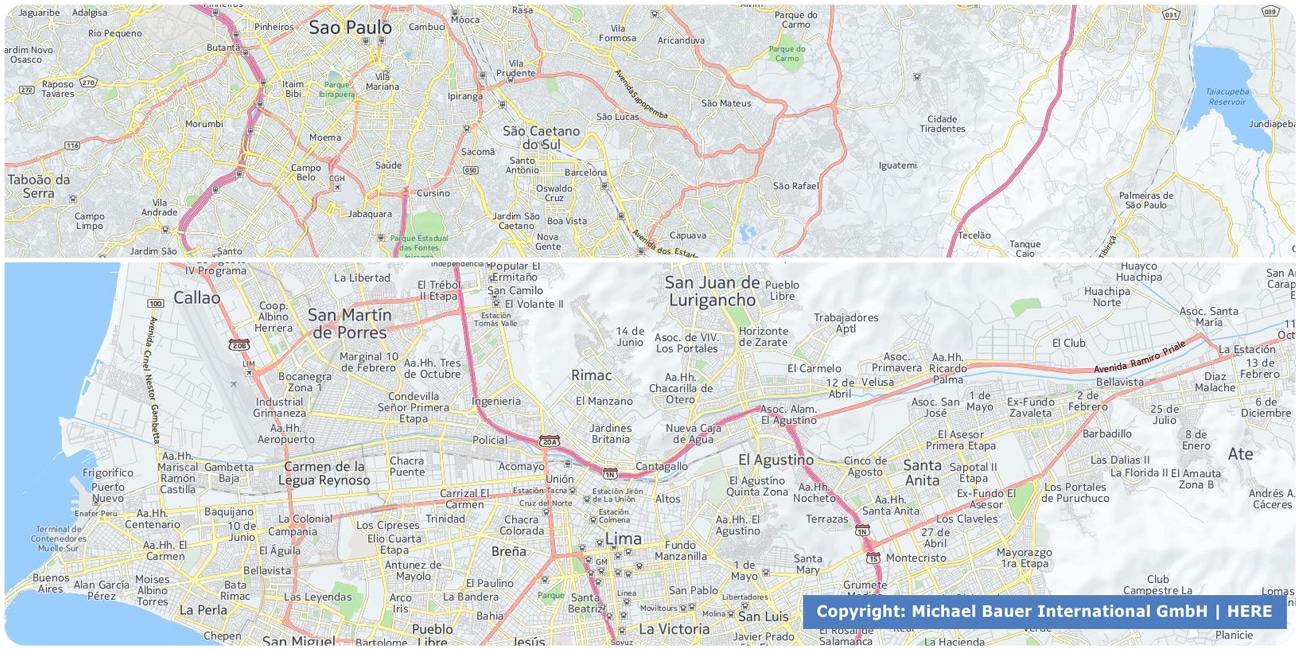 ADDED VALUE OF HERE MBI-ROAD NETWORK BASED ON HERE DATA
Derived from the HERE raw data MBI develops the product HERE MBI-Road Network, a workspace with processed, ready for immediate use and user friendly handling road maps. You can immediately start with your planning and analysis tasks without investing time in compiling the comprehensive HERE raw data.
ADVANTAGES OF HERE MBI-ROADNETWORK
HERE MBI-Road Network is characterized by an user-friendly file and folder structure. Different layers such as roads, background information and Points of Interest are clearly differentiated
The cartographic presentation of the HERE MBI-Road Network categorizes the roads with regard to line width and color, enabling a quick overview of the different road types
An attractive appearance of background topographical information such as forests, waters and industrial areas
User-friendly listing of all necessary routing attributes, turning restrictions in categories, types, speeds etc.
Because of the large volume of data the original HERE raw data is divided in several files (f.ex. Germany in 6 files). In comparison HERE MBI-Road Network has been aggregated to one file. This can be useful if processing only one road segment crossing more than one file
Easily extensible with all HERE-data such as House coordinates, Points of interest etc.
MB-International provides a workspace with zoom levels in an attractive color design
STRUCTURE OF THE HERE MBI-ROAD NETWORK
The modular structure of the Road Maps contains the following components, depending on the type of licensing:
Digital Road Maps with exact House number coordinates
Routing information, optimized for "RouteFinder" / MapInfo
POI (Points of Interest)
Address ranges for Geocoding
VAST VARIETY OF USES IN MANY DIFFERENT ASPECTS OF BUSINESS APPLICATIONS
Geomarketing Applications (e.g. Expansion & Consolidation analysis, Site analysis, Territory planning, Sales optimization)
GIS Applications (e.g. MapInfo & ESRI)
Geocoding Services (e.g. CRM & BI)
Mobile Asset Management Applications (e.g. Tracking vehicles)
Call Center Applications (e.g. Emergency services)
HERE MBI-Roads can be easily combined with our worldwide area boundaries as well as with sociodemographic and purchasing power data on different levels.
COVERAGE – UPDATES & MAINTENANCE – FORMATS
The HERE street maps are updated quarterly. Derived from this we develop the product HERE MBI-Road Network which can be delivered on demand for all country in the HERE database to the currently released version. For further information on updates and maintenance please contact our sales team.
We can provide you the data in almost all standard formats e.g. *.tab for MapInfo Professional or shape (*.shp) for ESRI ArcGis and ArcView and in most standard projections.
Please CONTACT OUR SALES TEAM to request a quotation or for any question you may have!