HERE Maps & Services | News | Use Cases
Maintaining an overview in dispatching with the innovative logistics information system from our partner Wolf Software
06/21/2022
The fundamental objective of transport logistics is the transport of the right goods in the right quantity and the right quality to the right place at the right time – and of course at the right cost, which should be as low as possible. These targets are commonly known as the "6 Rs of logistics". As briefly and succinctly as this endeavor is summarized under this keyword, as extensive and complex is the model in reality. A wide variety of topics ranging from fleet structure, human resources and remuneration models to legal requirements, social regulations and tolls are of importance for transport logistics. How is one supposed to keep track of all this?
Holistic approach to mapping transport logistics
To solve this issue, our partner Wolf Software has developed the logistics information system LoGo 3. It follows the approach of mapping transport logistics holistically and not just considering individual aspects such as route planning. Wolf Software has thus translated its many years of experience in the logistics industry into a logistics information system that has now been established on the market for more than 30 years. The industry-independent software solution includes all components of modern logistics management with comprehensive planning, management and controlling of transport logistics as well as personnel and fleet management. The information gained in one area is automatically available in the other sub-areas – for example, the vehicle cost rates determined in fleet management are used for further route planning.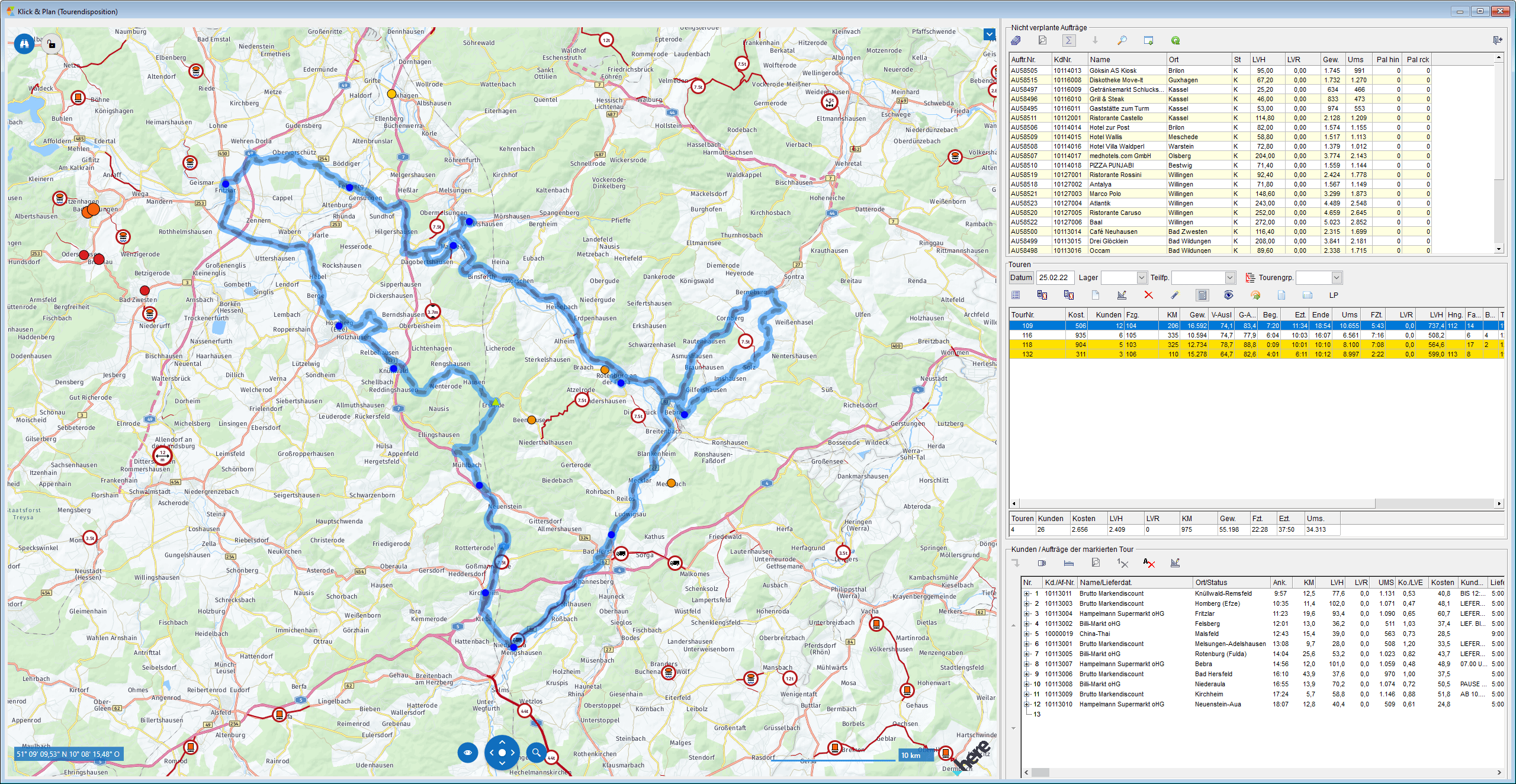 Modular design caters to individual needs of each customer
The solution offers decision-making guidance for management and can be individually tailored to customer needs thanks to its component-based structure. Despite the all-round approach, the system has a modular structure, so that not all sub-areas necessarily have to be used. Instead, the modules can be freely combined in order to find the ideal configuration for every application. The following basic modules are available:
Framework tour planning
Tour scheduling
Post-trip calculation with customer result calculation
Personnel administration, if necessary with incentive wage system or commission
Fleet management, if necessary with fuel data and repair management
Additional modules are available for many basic modules, such as checking compliance with social regulations, downloading and archiving digital tachograph files, toll calculation and many more. A wide range of interfaces to leading and subsequent systems complete the offer.
Market-leading map freshness and accuracy powered by HERE Technologies
The integration of HERE Technologies' online map services has replaced the previously static digital maps in the system. The global map coverage and continuously updated map material from HERE result in many advantages for Wolf Software's customers. For example, the administrative effort for installation and updating is eliminated, while more precise toll calculations and the use of real-time traffic and traffic reports are made possible. In addition, the integration of HERE offers the possibility of map rendering with satellite display, current traffic and truck attributes as well as the implementation of route optimization taking historical data into account. For its logistics solution, Wolf Software relies on HERE Geocoding & Search as well as HERE Routing and HERE Tour Planning APIs in addition to the HERE Map Rendering Service. Wolf Software chose to use HERE because of the market-leading timeliness and accuracy of its map data. The integration of the services into the current software development was easy thanks to the use of modern software interfaces.
Maximum flexibility through usage-based licensing
MBI supports Wolf Software with all questions and difficulties through our HERE Distribution. In doing so, we advise on all location-related requirements and assist with our many years of expertise in all support issues. Marc Wolf, project manager at Wolf Software, says about the partnership: "With MBI, we have a professional and competent partner at our side who has supported us quickly and easily with questions as well as the implementation of HERE in our solution since day 1. We particularly appreciate the good and uncomplicated communication and the fact that our needs are always individually addressed."
Through the MBI HERE Distribution, partners like Wolf Software have the opportunity to test products in advance and check for compatibility with their requirements and solutions. For maximum flexibility, MBI adapts licensing on a per-use basis without an increased minimum purchase.
Customized all-in-one solutions regardless of company size or industry
With the LoGo 3 logistics information system, Wolf Software offers customers in a wide range of industries such as beverage or food wholesalers, but also breweries, support and assistance with all information and management processes related to distribution logistics. Regardless of company size or industry, individual comprehensive solutions including a practical and implementable strategy and process planning can be created in order to achieve defined goals with sustainability. Wolf Software's solution in combination with modern telematics systems from various renowned providers closes the loop of electronic order processing to the customer and enables a more accurate and faster flow of information with transparency and high data quality.
If you too would like to gain an improved overview of your transport logistics, please contact our partner Wolf Software directly. For more information on our extensive HERE Distribution portfolio, please contact our Sales team.