HERE Maps & Services | News | Use Cases
Save money and protect the environment with carpooling – Sustainable mobility with twogo and HERE Technologies
05/17/2022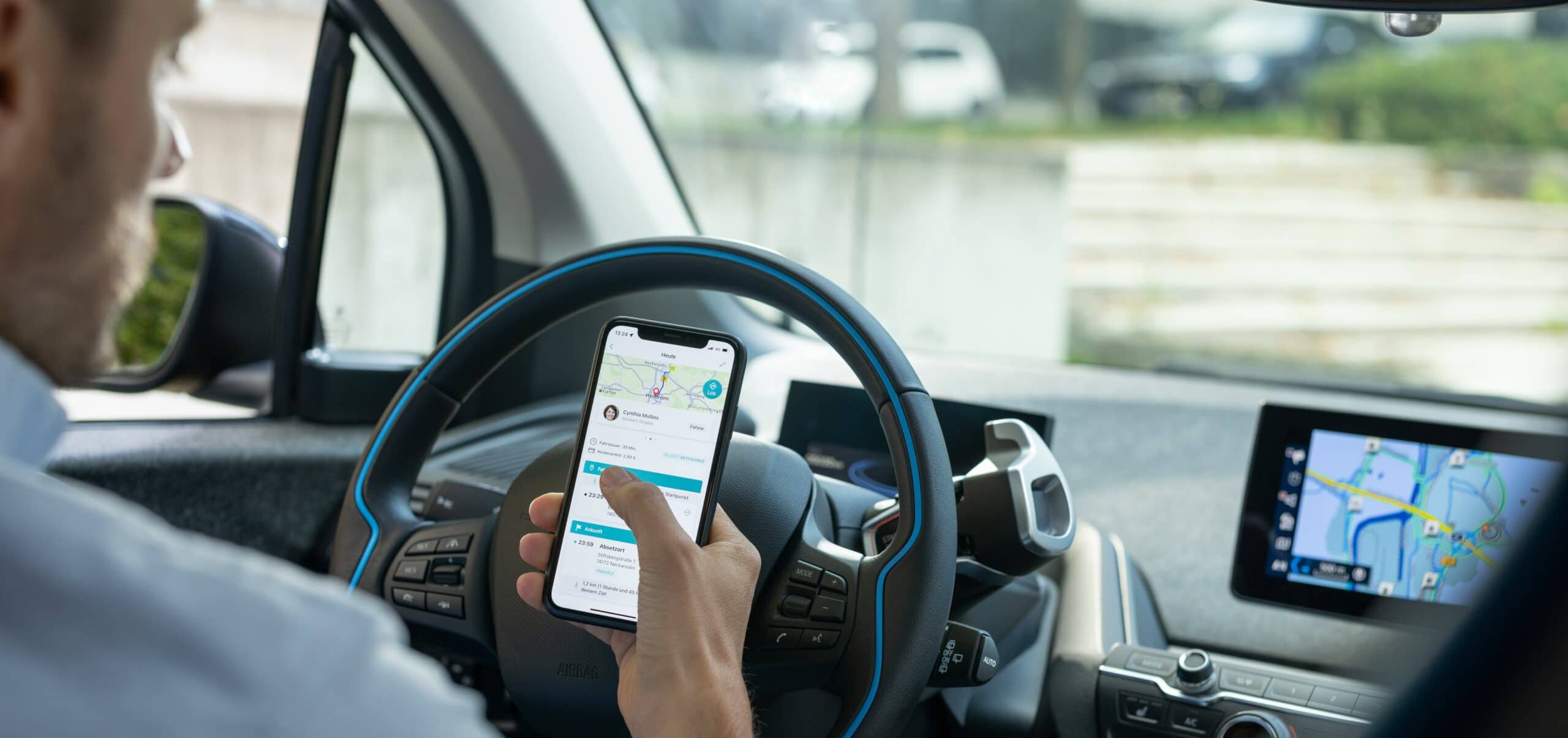 Full parking lots, high fuel costs and lots of exhaust fumes: Driving can be exhausting and puts a strain on the environment, the infrastructure and last but not least your own wallet.
Twogo – the smart carpooling solution from Schwarz Mobility Solutions GmbH – helps companies, municipalities and all users to make daily commuting more sustainable and relieve the surrounding infrastructure as well as the parking situation at company locations and in cities. Carpooling reduces CO2 emissions as well as ensures less traffic on the roads and a better climate. In addition, the ride-sharing solution makes it possible to reduce the high fuel costs due to shared journeys and also provides for networking among commuters – thus not only strengthening climate protection but also cooperation.
Sustainable mobility through ride-sharing
Through twogo, 70,000 journeys are arranged worldwide every year. In the process, 1.9 million kilometers of driving distance are saved by creating carpools. To compensate for the amount of CO2 saved each day, 32,444 trees would be needed. Winfried Hermann, MdL, Minister of Transport of the State of Baden-Württemberg describes the carpooling solution as follows: "Twogo is a smart way of sharing the way to and from work with colleagues. Ride-sharing saves solo trips and thus reduces environmental pollution. Apps like this are a good contribution to a new, sustainable mobility."
Carpooling pays off for everyone – companies, communities or event organizers
The twogo ride-sharing solution can be used in all industries and sectors and is the smart mobility platform for companies, municipalities and event organizers, but also schools as well as clinics and thus for everyone who wants to ride together. Twogo was developed specifically to meet the needs of commuters and business travelers and arranges carpooling opportunities automatically, efficiently and precisely. The ride-sharing solution ensures modern mobility in everyday life, relieves the traffic infrastructure and supports the achievement of climate goals.
Twogo uses HERE Technologies services in its app. Specifically, the app uses HERE Location Services for twogo rides to ensure precise localization and navigation. The HERE service enables intelligent route calculation in order to arrange as many carpools as possible with the least detour. In addition, historical traffic data is used to assure that carpoolers can be given a realistic arrival time for their ride. Lastly, twogo uses HERE Geocoding & Search API to auto-complete the address entry as well as determine the address when using location determination. HERE provides twogo with the widest range of different geopositioning and routing interfaces from a single source, allowing twogo to cover most use cases with one partner. This significantly reduces the complexity of development.
Schwarz Mobility Solutions GmbH and MBI have a long and trusting partnership. Careful consulting and targeted workshops ensure that Schwarz Mobility Solutions GmbH is informed about current trends in the area of location intelligence, as well as products from the HERE portfolio. As an experienced partner, MBI continuously assists with support questions as well as the implementation and integration of new functionalities, for example by advising on forward-looking topics for the long-term further development of the twogo app.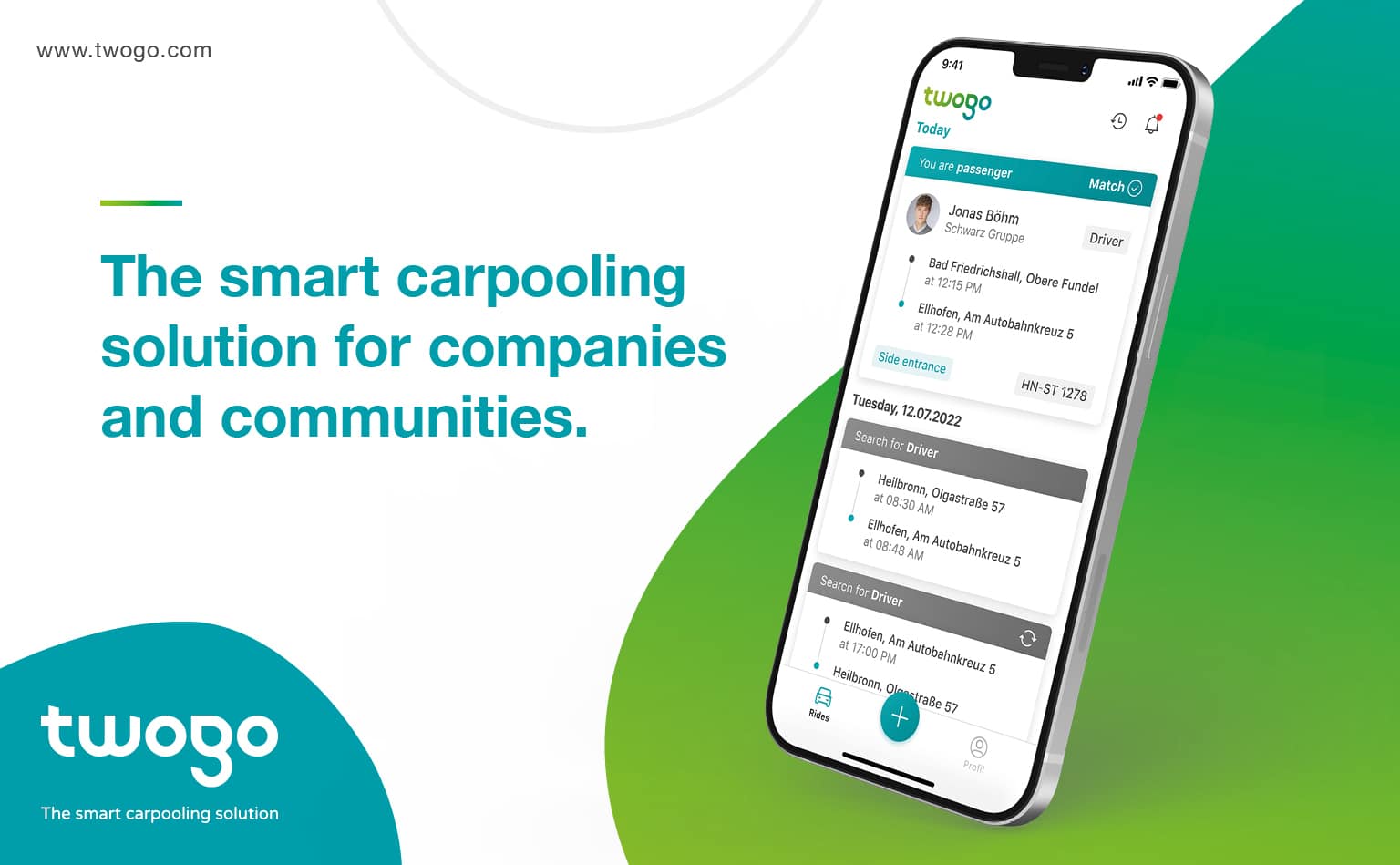 Individual additional functions complement the smart algorithm
The ride-sharing solution is available as a cross-platform mobile app (iOS, Android) and web app and can be downloaded by users free of charge. After completing registration, a ride request can be entered in just a few steps. Thanks to an intelligent matching algorithm, twogo automatically searches for and arranges a suitable ride within a very short time. The user is informed by SMS or e-mail about the carpooling opportunity and all relevant information about the upcoming trip.
With twogo, individual additional functions such as pool vehicle management, gamification, individual branding or reserved parking spaces can be made available. In addition, users are shown alternative trips by public transport. Precise and simple route planning based on historical traffic data is provided thanks to HERE Technologies.
The carpooling solution is currently available in over 25 languages and is being continuously upgraded.
Would you also like to protect the environment and save money at the same time? Download the mobile app now for free from the App Store or Google Play Store. For more information, please visit the twogo website or follow twogo on LinkedIn. If you are interested in our HERE Technologies Distribution or MBI's comprehensive portfolio of geographic, market and risk data, please contact our Sales Team.