MBI – SUPPLIER AND MANUFACTURER OF WORLDWIDE GEODATA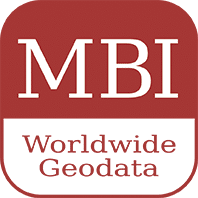 The Michael Bauer International GmbH that has been part of the Michael Bauer Group for more than ten years is one of the largest international data providers. The company's headquarters are located in Karlsruhe, Germany.
MBI unites passion and scientific know-how to provide globally consistent and comparable geographic data. Companies from all industries are supplied with up-to-date data for market analyses and visualization by MBI, to take informed and data-based decisions.
Location analyses as well as distribution and expansion planning of the leading retail companies are based on purchasing power and sociodemographic data on postal code and administrative area boundaries globally from the MBI data offering. MBI data is internationally integrated in the largest Business Intelligence Solutions as well as Social Media Marketing applications. MBI is not only recognized as a key data source but is also the preferred data provider for the leading GIS software and technology companies globally. Through mobile data, MBI's data scientists provide valuable insights into the global consumer behavior and their customer journey.
MBI was the world's first distributor for HERE Technologies, the leading company in developing digital maps and location-based services for mobile devices as well as vehicle navigation. Moreover, we support the whole HERE Technologies partner network.
Our portfolio is complemented by further education and workshops on the analysis and evaluation of global political risk data in the CONIAS Academy in our subsidiary in Heidelberg. The political risk data is based on longtime research with scientific methods, bespoke data and lastly their digital processing.
To support our international customers with service and consulting locally and in high quality, we have a statuesque partner network in selected countries.
Both Michael Bauer Research GmbH and Michael Bauer Micromarketing GmbH are part of the Michael Bauer Group.
---
Click on the country of interest and view our Data Offering:
---
In the following selection you will receive an overview of our worldwide data offering for the countries in the individual continents.
We have free sample (test) data available for most European countries. Please feel free to CONTACT US should you have any questions or in the event that the data you are looking for is not listed here or if you need samples for any non-European country.
STANDARD DATA FORMATS
The data can be supplied in the following formats which allow easy loading to most database platforms:
Tab delimited file (TXT)
KML
Access database (MDB)
Excel (xls)
STANDARD GIS FORMATS FOR OUR VECTOR BOUNDARIES
For those using desktop GIS systems we can deliver as well the matching AREA BOUNDARIES.
Esri Shape file (.shp)
Esri Geodatabase (.gdb)
MapInfo (.tab)
MapInfo MIF/MID
When and if desired we can combine the demographic data directly to the matching digital boundaries, enabling one to import the data into the system without the need for additional steps or tedious matching.
Please contact our SALES TEAM to discuss your requirements or request an individual quotation.