HERE Maps & Services | News
MBI honored at HERE Directions 2023: A Celebration of Innovation and Collaboration
11/16/2023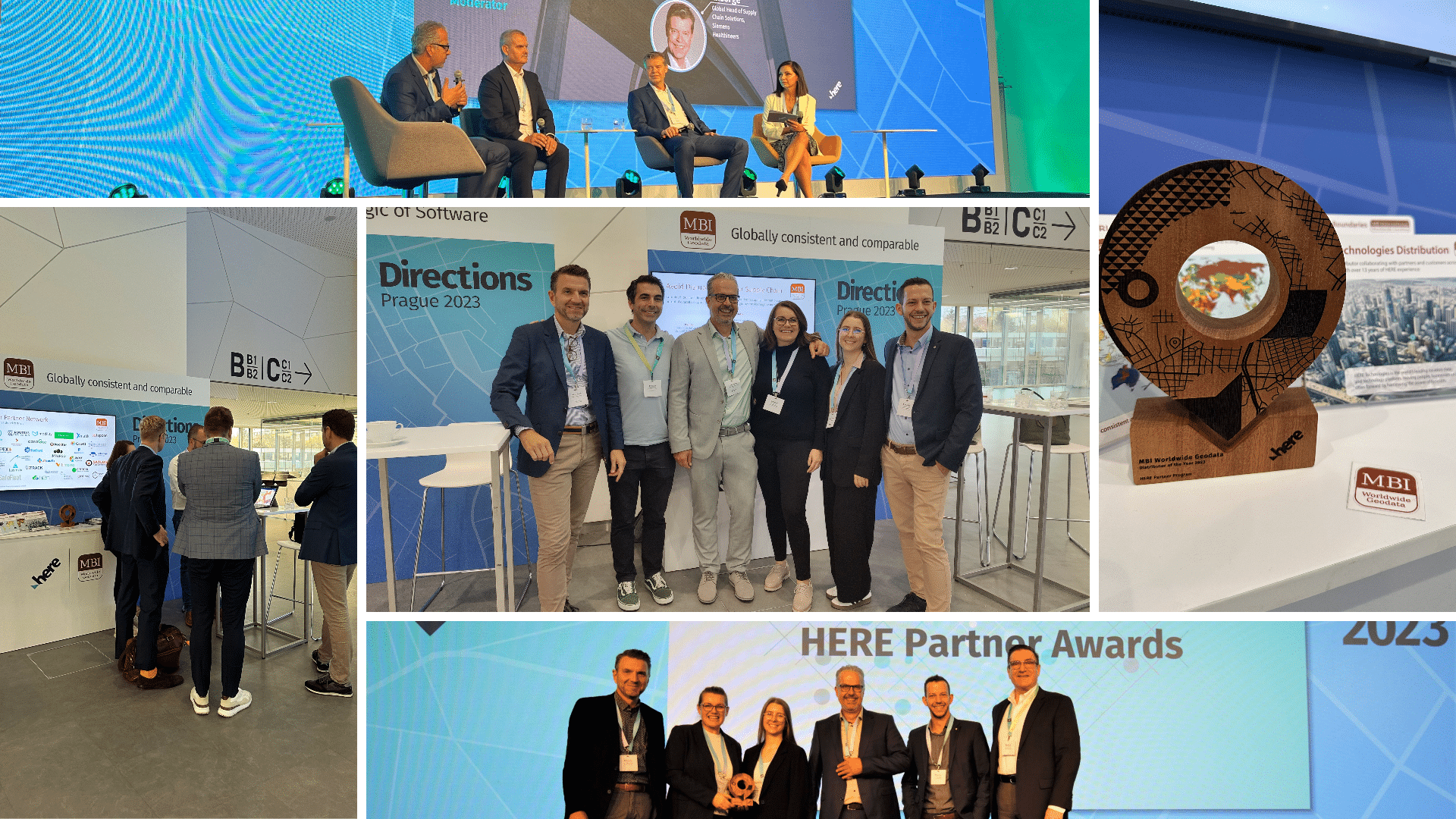 Our recent participation in the HERE Directions event in Prague was an unparalleled experience for our team. The event, hosted by our long-standing partner HERE Technologies, not only provided a platform for networking but also brought forth recognition that speaks volumes about our dedication to excellence and the strength of our relationships in the industry. Here's a glimpse into the exciting moments we shared during this exceptional gathering.
MBI recognized as Global Distributor of the Year by HERE Technologies
One of the highlights of the event was MBI being honored with the title of "Global Distributor of the Year 2023" by HERE Technologies. Our successful partnership with HERE goes back 14 years, and as of 2020, we proudly hold the distinction of being among the initial worldwide distributors for HERE. This recognition is a testament to the unwavering commitment and tremendous effort put forth by our outstanding team. We are immensely proud of this accomplishment, and it serves as motivation to continue delivering outstanding services and solutions to our clients.
Captivating Panel Talk about Successful Partnerships
Our Managing Director Ray Roberts-York took the stage as part of a captivating panel talk on successful partnerships. Emphasizing the importance of collaboration in our dynamic industry, Ray shared insights into what makes partnerships thrive. It was both interesting and engaging, offering a glimpse into the key factors that contribute to successful partnerships.
CONIAS Risk Intelligence Steals the Spotlight
During the event, our team also showcased our CONIAS Risk Intelligence political risk data for logistics and supply chain use cases, sparking significant interest among attendees. This highlights the relevance and importance of our cutting-edge data solutions in addressing real-world challenges within the industry.
Extended Networking: Strengthening Bonds and Forging Futures
Beyond the awards and panel discussions, the event provided a platform for reconnecting with long-time partners and forging new connections with innovative minds. This aspect of the event underscores not only the core of what we do—building and nurturing strong relationships that drive innovation and progress – but also opened doors to potential collaborations and future endeavors. The essence of the event was truly about building bridges and expanding our network of like-minded professionals.
Invaluable Keynotes and Networking: Unveiling Industry Trends
The HERE Directions event wasn't just about recognition and connections; it was a hub of knowledge and insights. The keynotes delivered by industry experts provided invaluable information and understanding. The networking sessions facilitated meaningful discussions, enabling us to gain fresh perspectives and stay at the forefront of industry advancements.
A Heartfelt Thank You
In conclusion, our participation in HERE Directions was a resounding success, and we extend our heartfelt thanks to the HERE Team for organizing such a fantastic event. Their commitment to fostering an environment of collaboration and knowledge-sharing has truly made HERE Directions a standout experience.
As we reflect on our accomplishments, we want to express our gratitude to our incredible clients and partners who have been an integral part of our journey. Winning the HERE Distributor of the Year award is a milestone and we remain dedicated to the principles of collaboration, innovation, and excellence. Thank you to everyone who has contributed to our success, and here's to a future filled with more collaborations, continued growth, and shared achievements!