HERE Maps & Services | News | Use Cases
On a ride through the USA on the most iconic road – guided by Route 66 Navigation powered by HERE Technologies
04/07/2022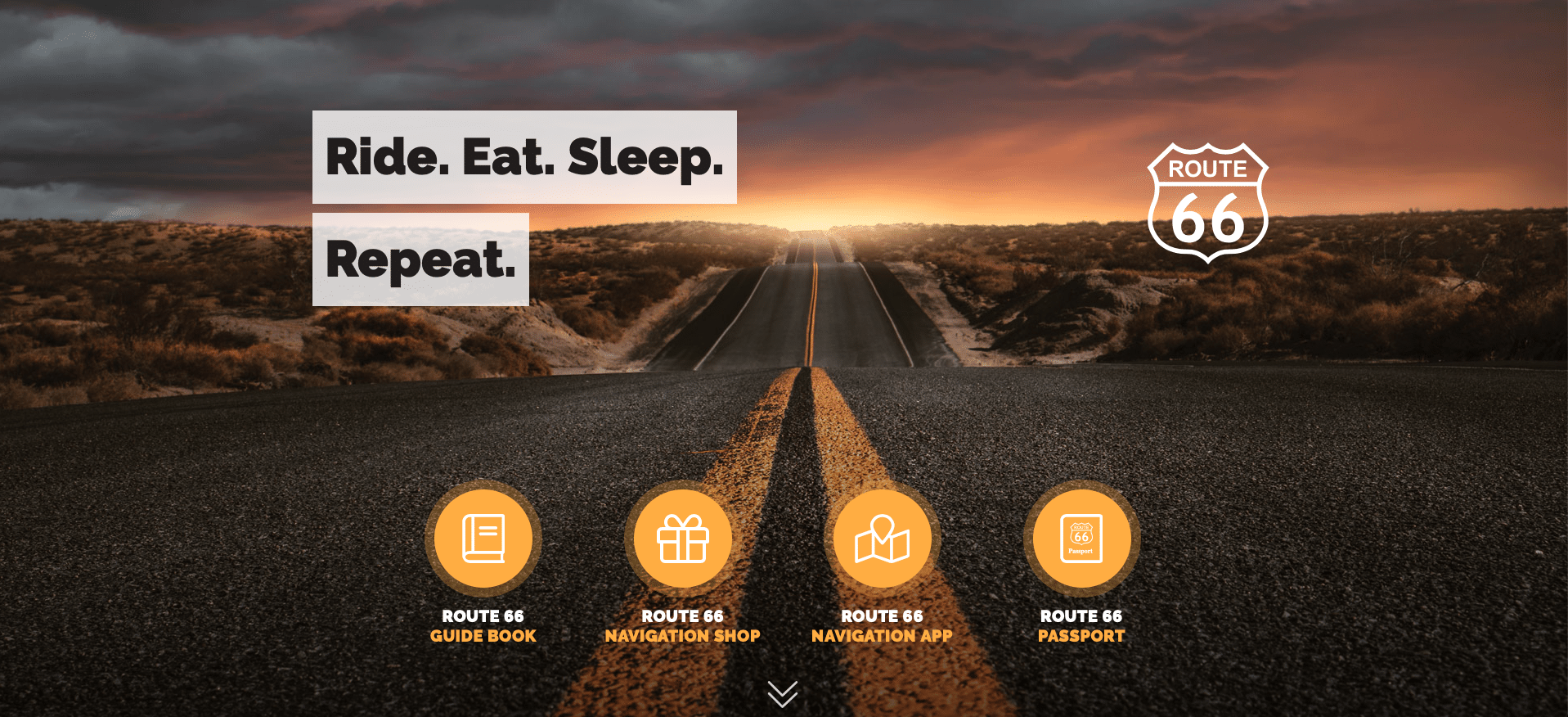 Route 66 measures 4200 km, passes through eight US states and its route is clearly defined. Conventional navigation solutions calculate the fastest route – a highway route – and they can avoid dirt roads, but no solution has been able to navigate a traveler along a pre-defined route yet.
Unique mobile app supports tourists from across the world with navigating along the historic Route 66
In 2017, Touch Media, founded by Jan Svrcek and Marian Pavel, aimed to change exactly that by focusing on developing the unique Route 66 Navigation app. After a challenging period of development and testing, in 2018 the first navigation worldwide for historic Route 66 was launched successfully. The app's immediate success prompted the company to develop comprehensive services for tourists driving along Route 66 like a unique travel guide e-book available in 8 languages as well as the Route 66 Passport for collecting stamps while visiting attractive places along Route 66. If that sounds interesting to you, stay tuned for our giveaway at the end of the article! Of course, the pandemic – knocking global tourism to near zero – was a huge challenge for Touch Media. But instead of merely surviving, the company became the world's largest operator of services for tourists traveling on Route 66. For the 2022/2023 season, they finally expect the return of tourists from all over the world – and are preparing by enhancing their Route 66 Navigation app with some major improvements, including Apple Car Play support. This is a big step in meeting customers' needs, as they soon will be able to use the application comfortably on multimedia systems of rental cars and Harley-Davidson motorcycles.
One of the many happy customers reviewed the app as follows: "If you are planning a trip to the US to do Route 66 don't hesitate, just download this app. It will save you a massive amount of hassle. We have just returned from our road trip and the first 2 days were hell trying to follow the signs for Route 66. The signs would be well posted at first and then disappear leaving us to wonder if we were still on the route or had made a wrong turn. This app that was recommended by one of the attractions we visited was an absolute lifesaver. It took all the stress out of the rest of the journey and I am positive that we would have missed many of the attractions had we been trying to follow a map. Highly recommend".
Offline navigation on a predetermined route has been the biggest challenge
When looking for a supplier of a suitable navigation SDK for the Route 66 Navigation app, there were two essential requirements: Navigation has to work offline and at the same time the user must be able to navigate a predetermined route. Marian Pavel, CEO of Touch Media, remembers: "With great surprise, we found that both of our requirements were a problem for several key navigation solution suppliers in 2017". He then explains: "After discussions with various global suppliers of navigation solutions, we have concluded that HERE Technologies provides the most comprehensive portfolio of services and products that meet our requirements. Although sometimes integrating HERE solutions into our products is not entirely easy, it still provides solutions that we can customize the way we need to". Touch Media is using HERE Navigate SDK available for iOS, Android and Flutter. The HERE Navigate SDK allows you to develop true offline navigation, downloading some regions or even a whole country. In the online mode, traffic services give you an overview of congestion and upcoming travel time. More information can be found in the comprehensive feature list.
For developing their Route 66 Navigation app, Touch Media uses a special tool – a tablet app in which they can define the navigation route in real-time and even modify it, for example, if one of its sections is closed. This internal tool communicates with the Route 66 Navigation application and therefore the route can be adjusted directly in the app at any time to respond to the current situation on the road. Another impressive feature of the app is that there are different variants of Route 66, just as its route has changed during history. Feedback from customers is highly appreciated to continuously improve the Route 66 Navigation app. For example, the goal for this year is to develop a combination of features to meet the specific requirements of the companies' American customers.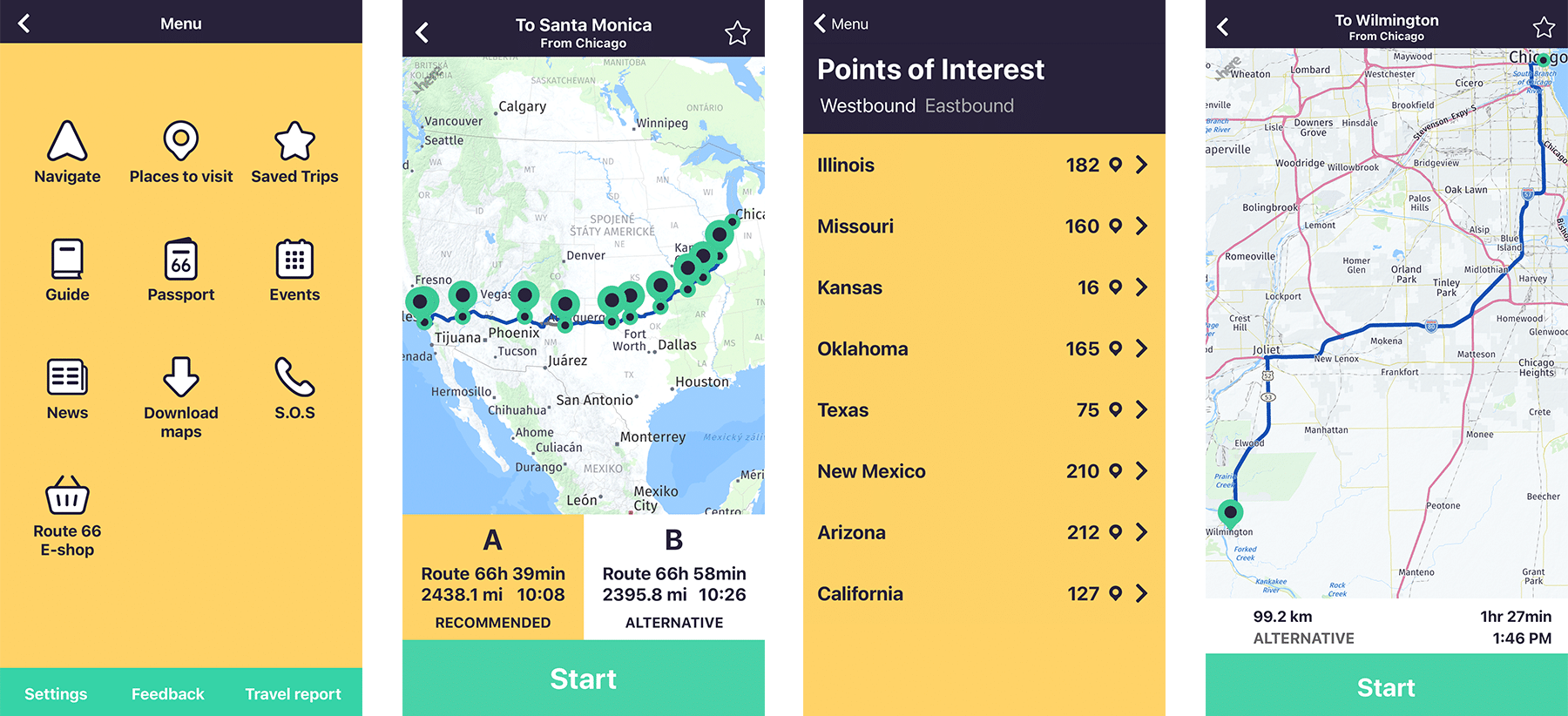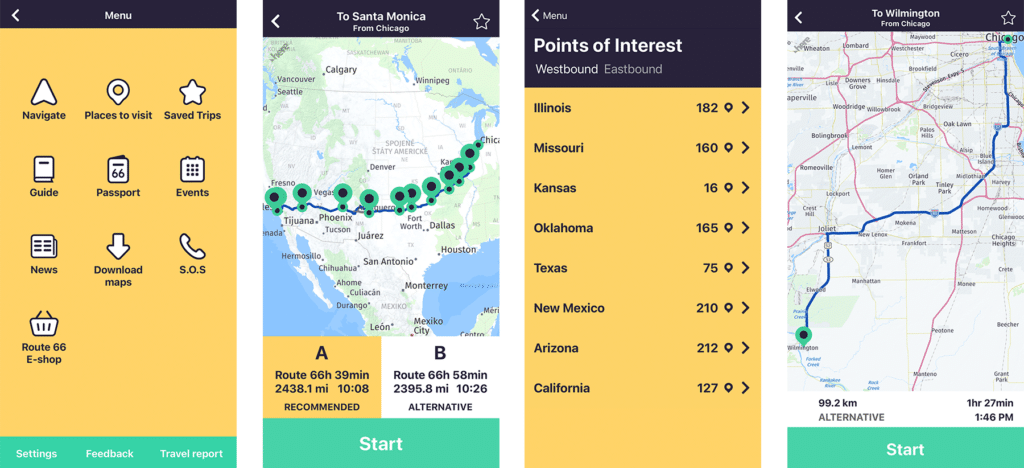 Don't miss important checkpoints – the application includes points of interest along the route
The application also contains another practical functionality for travelers which is truly unique. During navigation, the app displays push notifications on the screen as tourists approach certain points of interest, ensuring that they won't miss any interesting places along Route 66. Moreover, the notification can be clicked for more details on the respective place. A functionality planned for next season will also allow tourists to choose with a filter which points of interest they want to see while driving along Route 66 and which they don't want to visit.
Touch Media is being supported by MBI as one of the first global HERE Technologies Distributors. Marian Pavel, CEO of Touch Media, explains why the company chose MBI: "We greatly appreciate an active personal approach and flexibility in dealing with our requirements at MBI. In developing our application, we need a partner whom we can contact with questions and who is also helpful in solving any problems. We found that in MBI".
If you caught the travel bug and want to visit Route 66, you can download the Route 66 Navigation iOS or Android app or visit the website for more information. Another endless source of information and exchange with fellow Route 66 enthusiasts is this Facebook group. For more information about the wide portfolio of data and location services provided through our HERE Technologies Distribution, please contact our Sales Team.
By signing up for our HERE Technologies Distribution Newsletter, you get the chance to win a package including a t-shirt, Route 66 Passport and Route 66 Navigation prepaid card as preparation for your own trip down Route 66! The closing date for entries is May 31, 2022.