ConnectChains – Humanitarian Supply Chain Conference 2023
November 29
@
9:30 am
–
2:30 pm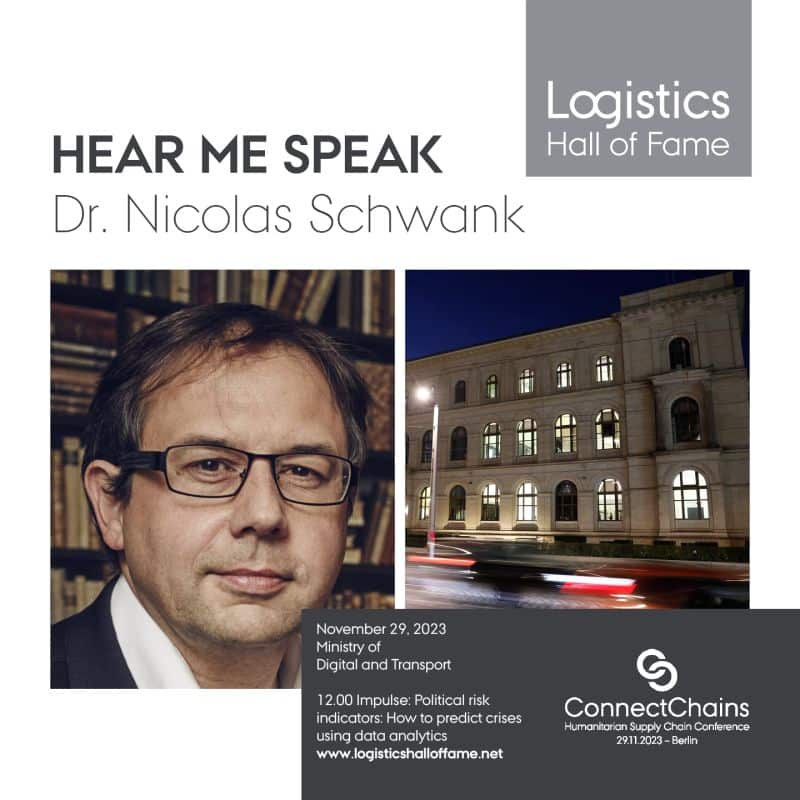 The ConnectChains – Humanitarian Supply Chain Conference celebrates its premiere on November 29th at the Federal Ministry for Digital and Transport (BMDV) in Berlin. And we will be there!
The one-day conference will focus on knowledge sharing and networking among all actors in the field of humanitarian and commercial supply chain management. The clear goal is to be able to manage crisis situations more efficiently.
ConnectChains' target audience includes logistics and supply chain management experts from humanitarian and development organizations, as well as representatives from logistics companies. Representatives from foundations, academia, governments and international donors are also invited.
Join us for exciting panel discussions and topical presentations! Our Chief Data Scientist of the Political Risk Department, Dr. Nicolas Schwank, will also enrich the event with a presentation on current geopolitical risks for supply chains. Dr. Schwank and his colleagues will also be available to answer your questions. Let's discuss the political risks to your supply chain and how our wide range of training and data products can best equip you to manage these risks.
Sie sehen gerade einen Platzhalterinhalt von Standard. Um auf den eigentlichen Inhalt zuzugreifen, klicken Sie auf die Schaltfläche unten. Bitte beachten Sie, dass dabei Daten an Drittanbieter weitergegeben werden.
Mehr Informationen